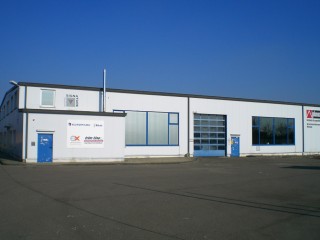 EUROMARK  GmbH
a subsidiary of EUROVIA was founded in 2005. With a good range of thermoplastics and tape could convince the EUROMARK Deutschland GmbH. In order to operate customer-oriented, can the EUROMARK expanded its product portfolio with the Berlack product range. So in 2009, it was also cold plastics, cold spray plastics and colors of the EUROMARK Germany GmbH. 2010 our offer for more exciting products from Interdesco has grown. Specifically, it is Fugenvergussmaterial and coating and sealing material. Now produces a wide range of product materials of 3 stamps EUROMARK, Berlack and Interdesco with us.
Quality management is no question for EUROMARK Deutschland GmbH. For our company it is natural to take measures to improve our services, products and processes, these fully documented and checked regularly by external bodies. All materials will be further tested before market introduction over a longer period for their practical application.
Industrial area is Heideloh many of our customers as the location of the camp known. 2010 was the site expanded to the entire team of EUROMARK Deutschland GmbH is there for you – a storage address, an office address, all the products from one source. International character, a word that is now represented in almost every industry – including us. We have already spent several years successfully hand in hand with our foreign colleagues. In this way we can offer products to their properties for specific climatic conditions and soil conditions are suitable. Interested? Talk to us!